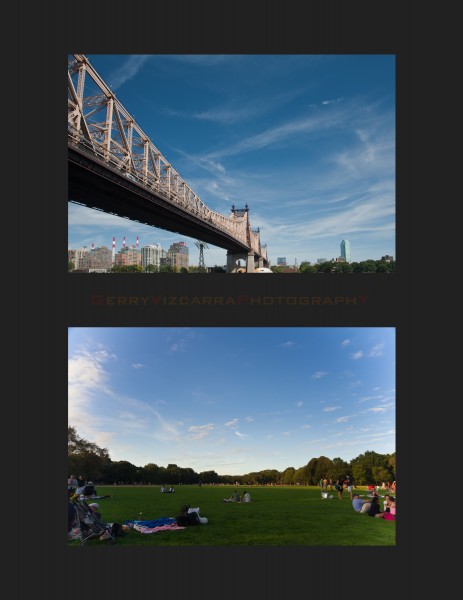 This was another beautiful day in NYC. I decided to venture in the east side of NYC since I hang out mostly on the west side. I have to admit that I had a hard time getting inspired to photograph. It was a nice day so I started walking south east starting from 57th street. I walked east towards 1st avenue and then headed south. I walked up to 14th street zig zagging between 1st and 3rd avenue. It was a first time that I didn't take one photo of anything. I needed to be inspired so I though about heading north and I had an idea of taking the RI Tram from NYC to Roosevelt Island, I heard that it had a great view of the city so I decided to head back north.
I got to the tram station and it turned out that it was still under renovation. I was really bummed out, I decided to keep heading east. Running along side the tram cables was Queensboro bridge (top photo). This was taken over a metal and concrete fence and right below it was FDR drive. It was kind of scary cause I had to climb up and take the photo over the metal fence, the fence was uninteresting so I didn't want to include it in the photo. I think the photo turned out well, since it was a wide shot I had to fix a slight "keystoning" of the building in the background.
I was kind of exhausted at this point so I started to head home and went through Central Park. The park was full of people enjoying the beautiful day playing baseball, sun bathing, picnicking and just hanging out. I walked across between Belvedere Castle and the Great Lawn. I was actually trying to photograph Belvedere Castle but it was kind blah, so I turned around took the bottom photo of the Great Lawn. I like this photo better than the photos of the castle since this had more dramatic colors, the sky, the green lawn, trees in the background and the people enjoying the day. This was late afternoon and the castle was side lit, it was not very interesting to me and the sky over the castle was just not there for me. The lesson for me this week was not to give up easily, have a plan B and C if plan A doesn't work out and if a shot was not working remember to turn around and see what's behind you. I hope you enjoy the photos and see you next week. Please leave comments, questions, and suggestions.