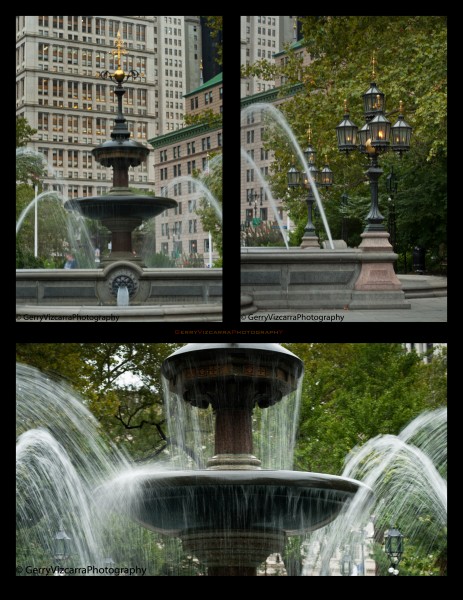 I just love New York City and this was one of many reasons why. It's nice and cloudy today in NYC and much cooler than the past two days. As you all know, cloudy days are the best time to photograph, it's like having a gigantic soft box.
Today, Sunday, I ventured downtown, I started in China town had some dumplings and then headed south. I'm not familiar at all with downtown Manhattan, specially around city hall and financial district I have no idea what's there. But low and behold right in front of city hall was City Hall Park. It's such a beautiful park. It was surrounded with sculptures and the fountain was just awesome.
The fountain was lit by gas lanterns on each corner just like in the olden days. I felt like I was walking through a time warp, I can imagine this park back when there was no electricity and the city was lit by gas lanterns.
You can see the details of the fountain, the most obvious was the gas lanterns and the not so obvious were the tile work around the middle structure. It was just beautiful. I love the contrast of the gas lit lantern surrounded by tall buildings lit by electricity.
I hope you guys have a chance to see City Hall Park in person. If you have any questions, comments and suggestions please email me. Thanks and see you next week.