Summer officially starts mid to late June here in NY.  Last Friday was my first "summer friday off" from work. It was a perfect day, low humidity, a little cool and cloudy.  It's an ideal day to do some waterfall photography, I've been to Croton Gorge Park before however this is the first time i've photographed the falls.  The park was about one hour north of NYC in Cortlandt, NY.  It was a nice drive through single lane bridges and some great neighborhoods with interesting houses.  I highly recommend going to this park it has picnic tables, a few BBQ grills and some great hiking trails. Here are some photos of the falls, enjoy!
Details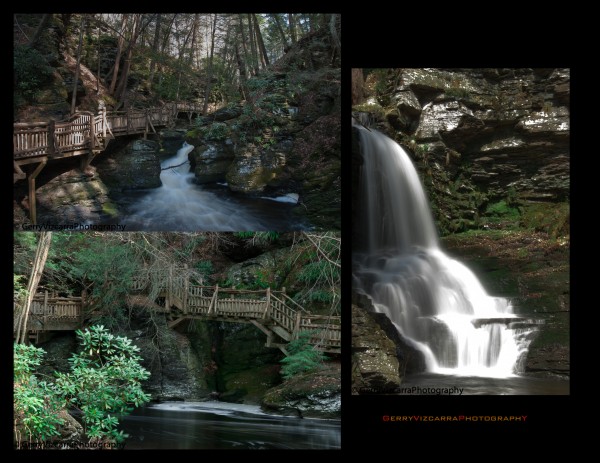 I am going way back for this weeks post, this photos were taken early spring this year. Bushkill Falls located in northeastern Pennsylvania around the Pocono mountain, very close to the Delaware Water Gap, was a great find. I have been here several years ago but didn't get a chance to photograph it, however I made sure this time that I had my equipment with me.
I was hoping to get there earlier that day but hit traffic on the way. It turned out to be a blessing since the park does not open till 9 am. It was a beautiful spring day. It was still early in the spring season, park still empty in the early morning hours, lush greenery, some flowers were in bloom, almost a perfect day to photograph. I love this falls because of those wooden walk ways built around the falls, it feels like your part of the environment and very close to mother nature. It's also a wonderful hike around the falls and to the top of the mountain.
I said almost a perfect day to photograph because at some point during the hike the sun was just too bright to photograph specially the different parts of the falls. I had lots of shot that my highlights were blown out, lots of "blinkies." As you can see on my camera settings my aperture were in the high end to get that "flowy" look on the water movement. I didn't have any ND filters handy which would work great in this kind of situation. However, I think the photos still worked out great. The lesson I learned here was to work with what I've got and create the best photo I can with the situation I'm presented with. Enjoy the photos and see you next week. Please leave comments, suggestions, questions or email me. Thanks for visiting.
Details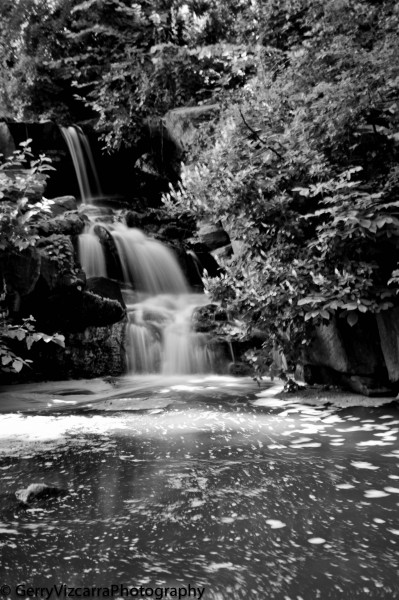 I went for a walk this past Thursday to take photograph of some local scenes. I live in Harlem, NY and I ended up walking south on the Hudson River Park/Greenway Park. I wasn't really sure what I wanted to photograph so I just decided to walk south and as I was walking I turned around and I saw this view of George Washington Bridge. I wasn't sure if the photo was going to work out since it was the middle of the day, very sunny and very bright. To get the color of the sky I used circular polarizer and I underexposed by 1 to 2 stops. I got some dramatic sky and you can see some traffic on the bridge.
It was getting too hot walking by the river since there was no shade, so I decided to walk across and head to Central Park. I entered the park on 93rd street and headed north. I was not familiar with north west area of the park so I just went to different paths and see if there was anything interesting to photograph. I fallowed group of kids and I found this little water falls. It was not the greatest light and the water was a little murky. I usually have my tripod with me but on this instance I didn't have it. So both photos were handheld. For the water falls it was a little difficult because I had a longer exposure, even though I had VR lens I still had to hold the camera very still to avoid any shake.
I took several shots and I was still getting some shake and blur. With the water falls photo I decided to use the live view feature to lessen the shake from the mirror movement. From the group of pictures I took this was the best one I think. I decided to convert it to black and white since the color wasn't really interesting and to also cover some of the blur and shake still on the photo. Thanks for visiting. Please leave comments and questions.
Details